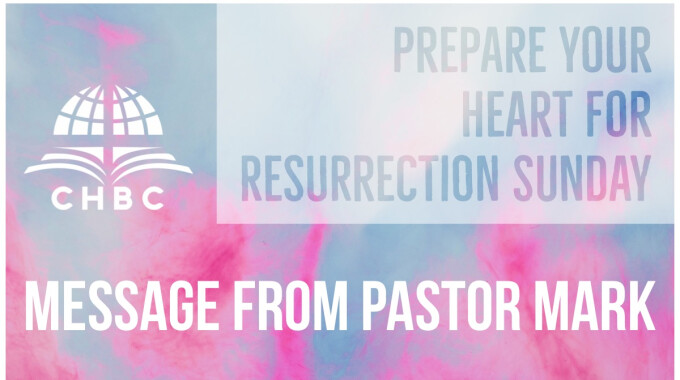 CHBC Family and Friends,
The resurrection of Christ is the most significant event in all of history. This cannot be overstated. Even if we could meet in person we could not celebrate long enough or with enough fervency of spirit to bring honor to God worthy of His merciful grace. Thankfully He is well-pleased with a contrite heart in worship. While there is a great deal of disappointment that we will not be together to worship on Good Friday or Resurrection Sunday, I am grateful that we can offer some ways to prepare each of us for worship this coming weekend, and on Sunday.
Here is a link to a resource we ordered from Chosen People Ministries. The Messiah in the Passover presentation is yours to watch or downlo ad. With this link you have a video presentation that lasts 30 minutes that explains the Passover Meal, and how its fulfillment is in Christ. You also have a supply and shopping list, as well as the order of service for a Passover meal. The video is easy to watch on a phone or tablet, and can be downloaded to a computer for full screen viewing.
We will send you other resources and ideas for Holy Week. We wanted you to have this early in the week in case you needed time to prepare or buy things. Use this Thursday, Friday or Saturday as a way to draw your attention to worship on Easter. May our hearts and minds be on the risen Christ! Blessings CHBC. I love you and miss you. I cannot wait until we can worship together publicly and corporately again!
Messiah in the Passover: https://www.chosenpeople.com/site/messiah-in-the-passover-for-churches/
Mark D. DeMoss, Senior Pastor