Equip Classes: What Are They?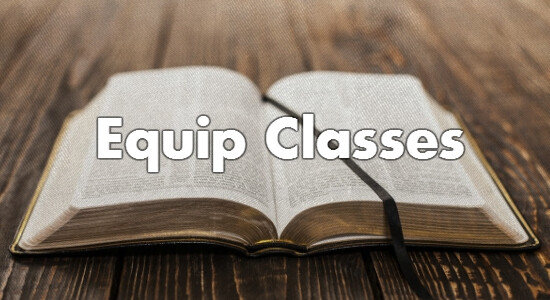 This Sunday, October 8, at 5:00 pm we will begin a six week series of Equip Classes. We've been doing Equip Classes for a few years now, but many of our newer members might not know exactly what they're all about. If you're curious, listen to Pastor Mark talk about it!
Choose a class below and we hope to see you on Sunday!
"EXPLAINING CHRISTIANITY"
Teacher: Taught by Pastor Mark and Brice Schmidt
Location: 206
This class will examine cover basic Christian doctrine, will display how these Christian doctrines are found in Scripture, and how they apply to everyday life.

"
¿SOY REALMENTE CRISTIANO?

"

Teacher: Associate Pastor Isaias Vargas
Location: 308
En Español.


"THE WORD DID IT ALL: LUTHER & THE REFORMATION"
Teacher: Associate Pastor Aaron Swain
Location: 214
In light of the 500th anniversary of the Protestant Reformation this year, this class will examine Martin Luther's life and theology and will consider how those principles need to be applied to modern churches.

"DISCIPLESHIP FOR THE REST OF US"
Teacher: Assistant Pastor Jason Crosby & Pastoral Assistant Ryan Ross
Location: 200
This class will explain what it looks like for the average person to follow Jesus in a way that is rooted in the gospel and geared towards practical, real world application.

"THE LIFE OF JESUS: IS HE REALLY THE ONLY WAY? "
Teacher: Deanna Huff
Location: 202
This apologetics class will address whether Jesus really is the only way to salvation by studying his life and his teachings in the Bible.

"THE LIFE OF JESUS" FOR KIDS
Teacher: Cheryl Ross and Tom Hollis
Location: 309
This class will be broken into a younger class and an older class as they study the person and work of Jesus Christ.

"I'M A CHRISTIAN NOW"
Teacher: June Thompson
Location: Room 301
This children's class is for kids who have recently made a profession of faith in Jesus Christ. It helps them understand what it means to be a Christian, will clarify misconceptions they might have, and prepares them for baptism and church membership.