Sunday School Information for June 28, 2020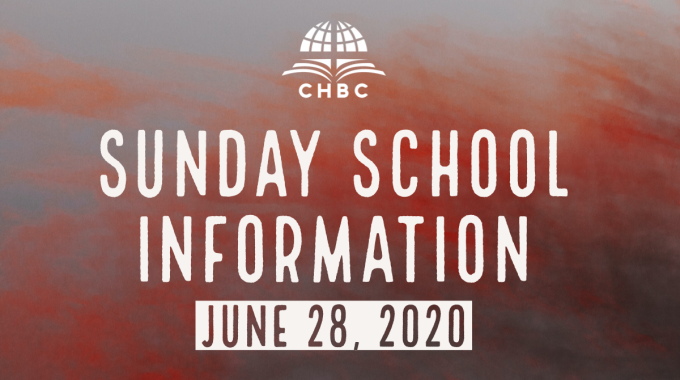 CHBC,
Until we are able to meet for Sunday School, the staff of CHBC will continue to provide access to Sunday School material you can use in your home, or for your virtual Sunday School gatherings. If asked to login, simply create your own account.
How to Grow Lesson and Handout: A New Study for you to use at home, from the Core Seminars at Capitol Hill Baptist in Washington DC.
Explore the Bible Adults
https://curriculum.lifeway.com/#/easy-link/GPJC/30d84783-71aa-48de-9e57-d8a77106afc0
Gospel Project (Pre-School)
https://curriculum.lifeway.com/#/easy-link/GPJC/db8fe85d-a986-4c81-ee10-af9ae87b6b32
Gospel Project (Kids)
https://curriculum.lifeway.com/#/easy-link/GPJC/fdcfad19-cc28-4e9a-a84d-6344c8d75ad7

Gospel Project (Adults)
https://curriculum.lifeway.com/#/easy-link/GPJC/6d80cb89-3344-4e3b-fc80-7fc0ba250582
Bible Studies for Life (Young Adult)
https://curriculum.lifeway.com/#/easy-link/GPJC/85209351-da47-404f-a383-e19a5d5d72d2
Bible studies for Life (Adult)
https://curriculum.lifeway.com/#/easy-link/GPJC/82af1270-386f-44d1-d4ab-8f4b514f8077
Bible Studies for Life (Senior Adult)
https://curriculum.lifeway.com/#/easy-link/GPJC/44130bae-eaba-43b7-ac19-4d244397df13
Mark D. DeMoss, Senior Pastor