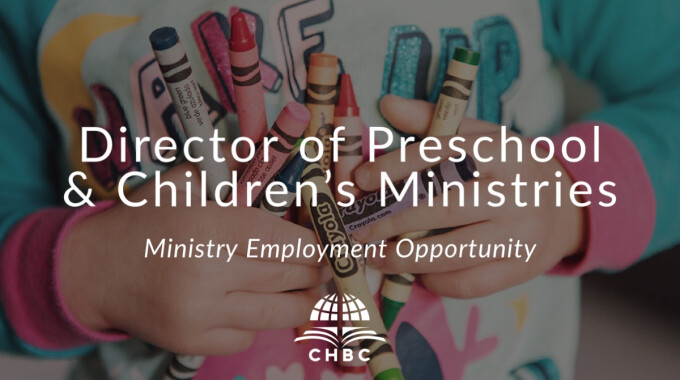 Dear CHBC,
Please be aware of this very important ministry opportunity for our church. Be in prayer for our Personnel Committee who is responsible to work with our senior pastor to select a candidate to present to the church for the position of Director for Preschool and Children's Ministries. Read the job requirements below, and follow this link to our website to find out how to apply:
CHBC Ministry Employment Opportunity: Director of Preschool and Children's Ministries.
Capitol Hill Baptist Church is seeking applicants for the PT position of Director for Preschool and Children's Ministries. The job requires a minimum of a bachelor's degree, related experience in the field of ministry to children, an ability to plan, organize, and lead paid or volunteer staff, a knowledgeable use of Microsoft office, general computer skills, an ability to relate to children and adults, a cooperative spirit, and biblical character. 25-30 hours per week will be expected. Salary and associated benefits will be explained at the time of an interview. Employment eligibility will include the successful completion of a background check and Ministry Safe training. Interested parties can inquire at ; print, complete, and send application to , or mail to 304 SW 134th Street OKC, OK 73710 c/o Preschool and Children's Ministry Search; or send a resume to the same email and address previously listed. All applications or resumes must be received by December 2, 2022. Employment start date will be January 2, 2023.
Mark D. DeMoss, Senior Pastor