Wednesday Reminder and Thursday Prayer & Fasting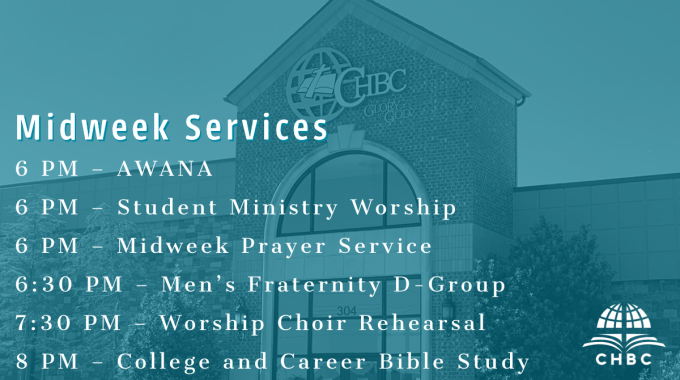 CHBC,
I want to share two very important things with you:
Tonight is Wednesday, and as we attempt to continue offering our Midweek Services, let us all continue to be reasonably cautious in our group settings, as we also faithfully move forward in accomplishing our mission as a church to equip believers, exalt Christ, and extend the gospel. Be aware that all of our regular Wednesday night services are in place:

AWANA
Midweek Prayer Service
Student Ministry Worship
Worship & Praise Rehearsals
College & Career Bible Study

Governor Stitt has called for a day of prayer and fasting on Thursday, December 3. The focus of this day is to fast and pray for all those who have been affected by COVID-19, and for our frontline healthcare workers. Consider fasting one meal, or all day, to pray for each family who has suffered the death of a loved one due to COVID-19, for the many who have suffered ill health because of this virus, and for all of our own health professionals that are members of CHBC, as well as the thousands of health professionals across our state that continue to serve our communities in very difficult circumstances.
Mark D. DeMoss, Senior Pastor