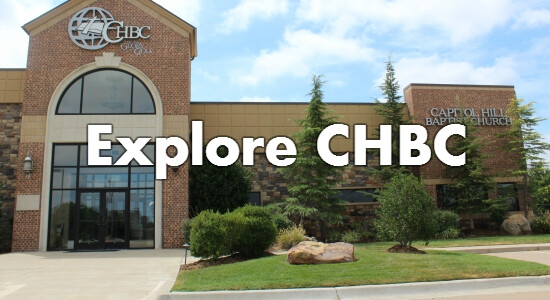 Next Steps - Explore CHBC
What is Explore CHBC?
Explore CHBC is a 3 week membership orientation class. It's a great class for those who are just curious about what CHBC is all about, as well as those who know they want to join and want to begin the process of membership.
Why a Membership Class?
1. It helps you get to know us. We're in Oklahoma City, where there's a church on every corner. No church is the same. If you want to join with us, it's a good idea for you to know who we are, what we believe, why we exist, and how we operate.
2. It helps us get to know you. Joining a church is not like joining a gym but is much more like joining a family. We want to get to know you! We want to hear your story, how you became a follower of Jesus, and how we can best serve you.
3. Church membership is meaningful. Covenanting with a local church is a big deal. With many churches, the process is rushed. We want your decision to join with us and our church's decision to receive you to be a big deal and a reason for us to celebrate together.
"Church membership is commitment with responsibility, not involvement without accountability" - Mark Dever
What's The Class Like?
The class meets each week during Sunday School at 9:00 am. It lasts for three weeks and is taught by our pastors. You'll receive a booklet with teaching notes and some important information about our church. There's always a time to ask questions about what we believe, how we do things, and how you can get involved. Classes are held each quarter. Check the link below for class dates.