Bring SPRING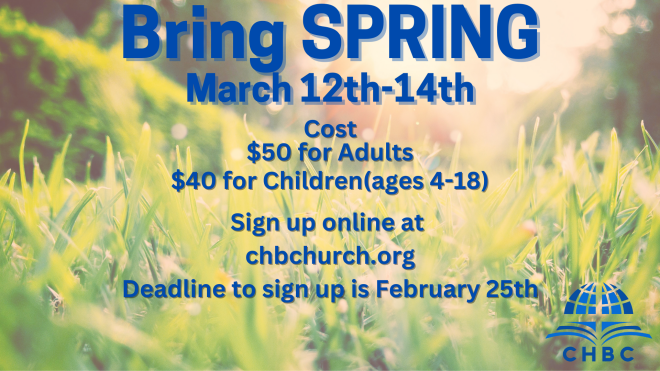 Monday, March 13, 2023, 9:00 AM - 8:00 PM
The purpose of "Bring SPRING" is for CHBC to reach out to our community through missions and ministry events along with in-reach to build strong families. Bring a Smile, Prayer, Reach to others, Inspiration, Note of encouragement, and Gathering together to share the love of Christ. Please sign-up below by February 25. If you have any questions, please contact Pastor Mark and Susan DeMoss, Keo and Henry Chan, Ashly Meget, or Terry Davidson.
Cost - $50/adult & $40/child (4-18 years)
Sunday, March 12 Family Mission Bonfire & Cookout
5 pm Eat
6 pm Worship & Bonfire
6:30 pm Prayer Time and Logistics
Monday, March 13 Family Missions at OBHC
9 am Arrive at CHBC
Prayer and Praise
9:15 am Work Day
12:00 pm Lunch
12:30 pm Work Day
1:45 pm OBHC - South Campus
4:00 pm Rec & Crafts
5:00 pm Meet at the church to prepare water bottles, paper goods, and lawn games items to take.
5:30 pm Arrive at OBHC for Cookout
7:00 pm Devotion with OBHC
7:30 pm Clean-up
Tuesday, March 14 Family Missions at Kaleo Ministries
9 am Arrive at CHBC
Prayer and Praise
9:15 am Work Day
12:00 pm Lunch
12:30 pm Leave for Kaleo
1:45 pm Kaleo
5:00 pm Return to CHBC
6:00 pm Dinner
6:45 pm Movie Night
8:00 pm Return to Home