Men's Fraternity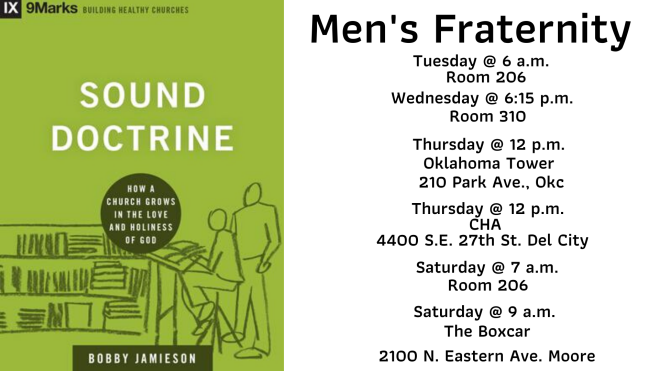 Every Tuesday, from 02/04/2020 to 04/21/2020, 6:00 AM - 7:30 AM
This is a Men's Bible Study. We meet several times a week with different options of time and place. We are reading through "Sound Doctrine" by Bobby Jamieson.
Sound doctrine is the life- blood of God's people, providing the foundation for the church's unity and witness. From shaping the corporate life of the church to directing individuals in the practical issues of life, right thinking about God, humanity, sin and salvation is indispensable for real growth.
Tuesday @ 6 a.m. Room 206
Wednesday @ 6:15 p.m.
Room 310
Thursday @ 12 p.m. Oklahoma Tower, 210 Park Ave. Okc
Thursday @ 12 p.m. Christian Heritage Academy, 4400 SE 27th St. Del City
Saturday @ 7 a.m. Room 206
Saturday @ 9 a.m. The Boxcar, 2100 N. Eastern Ave. Moore