Falls Creek 2022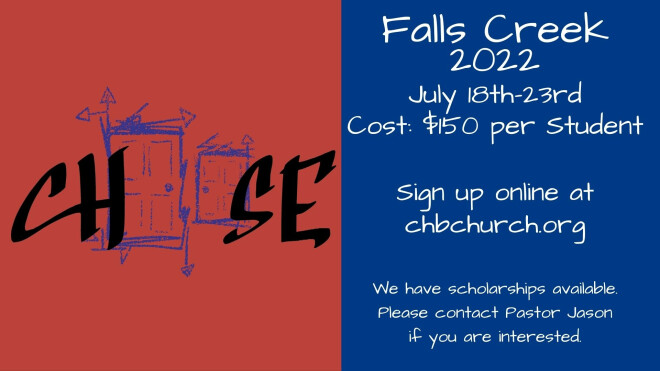 Monday, July 18, 2022, 12:00 AM - Saturday, July 23, 2022, 12:00 AM
Students join us for Falls Creek 2022 the theme this year is CHOOSE. This is for students from 7th-12th grade.
"So then, just as you received Christ Jesus as Lord, continue to walk in him, being rooted and built up in him, established in the faith just as you were taught, and overflowing with gratitude." Colossians 2:6-7
Each year, the emphasis of Falls Creek youth camps follows a rotation of evangelism, the character & nature of God, and spiritual disciplines. This year, we will explore spiritual disciplines of the Christian life. In Christ we are:
SAVED
Trust and take hold of Jesus.
SET APART
Walk in obedience and come away from the world.
SOLID
Seek to be like Christ.
SURRENDERED
Give your life to God out of gratitude.
Cost for Camp is $150.00
There will be a discount for families signing up multiple children.
Please know we have scholarships if you need help financially at all please let us know.


We will be leaving at 11:30 am Monday morning
We will return Saturday morning at 10:30 am