Student Life Camp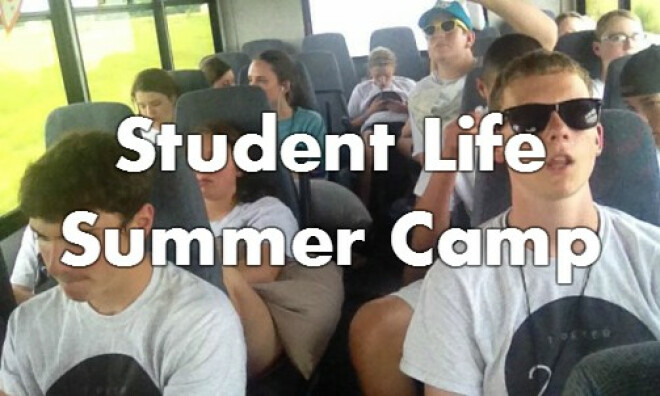 Wednesday, July 26, 2017 - Sunday, July 30, 2017
---
Date & Location: July 26-30 in Wichita Falls, TX
Theme: "The Word" – A Study of the Scriptures
Speaker: Jeff Mangum, campus pastor at The Austin Stone Church, Austin, Texas
Cost: $250 per camper

Additional Money: Bring money for 2 fast food meals plus any money you might want for souvenirs
REMINDER:
If you have not turned in you two notarized forms yet, or if you have not paid the $250, please do so ASAP.
Departure:
- Arrive at 9:00 am on Wednesday, July 26 for our 9:30 am departure
- Fast food lunch in Wichita Falls Texas
- Arrive at Student Life Camp at approximately 1:00 pm
Return:
- Depart Student Life Camp about 7:30 am on Sunday, July 30
- Return to CHBC at approximately 10:00 in time for Sunday morning worship service
Packing Instructions:
Pack only one small piece of luggage, one personal bag
Bible, notebook, pen
Casual clothing for three days; "dress clothes" are not necessary for worship services
Athletic shoes, socks, shorts, and shirts for afternoon games and activities
Toiletries, soap, deodorant, toothbrush, toothpaste, personal hygiene items
Towel, washcloth, shower shoes
Pillow, single sheets, blanket (or sleeping bag)
Spending money for two fast-food meals on the road.
Spending money for CD's, t-shirts, snacks, or other incidentals along the way
Water bottle (it gets hot!)
Alarm clock
Clothing guidelines:
No article of clothing should have inappropriate or suggestive graphics or words
No tank tops, spaghetti straps, halter tops, tube tops, or sleeveless shirts
No shirts that are cut low or that reveal midriffs
No tight-fitting clothing (i.e., yoga pants, tights)
What Not to Bring: Tobacco, drugs, alcohol, knives, nuclear weapons, guns, swords, fireworks, pranking items (water balloons, etc.), electronics, etc.
Cell Phone/Media Policy: Students may bring cell phones but they must not be used or seen during any instructional times or other times deemed inappropriate by the Student Pastor. Cell phones must be turned in to family group leader before students go to rooms at night.
Student Life Waiver
CHBC Medical Release Waiver
Information Handout