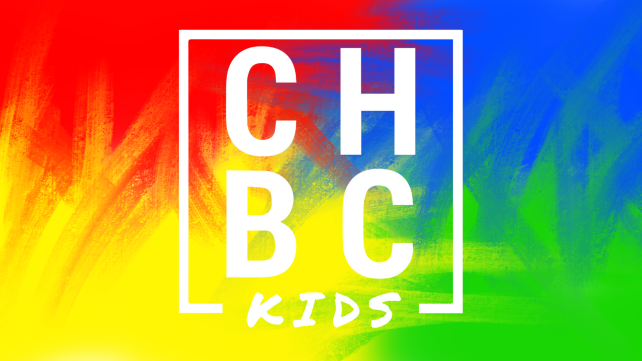 We love children!
Children are important at Capitol Hill! That is why from birth on we are teaching children the Bible in kid-friendly environments. It is our mission to partner with parents to have each child to come to know, love, and serve God.


Sundays at CHBC

SUNDAY SCHOOL (BIRTH – 6 GRADE) 9:00 am
We have Sunday School for all ages!
Children birth-Kindergarten meet in the Victory Village Preschool Area. When you arrive, you will check-in at the Preschool Welcome Desk. You will receive a name tag for your child and a receipt tag for the parents. This child receipt tag only allows you to pick up your child. Siblings are not allowed to pick up preschoolers.
Children ages 1st-6th Grade meet in classrooms in the Children's Hallway.
Come a few minutes early to check in if it's your first time with us!


EXTENDED TEACHING CARE (BIRTH - 3 YEARS) 10:00 am
Children are always welcome in our worship services, but children ages (birth to 3 years) may attend Extended Teaching Care. During this time, approved volunteers will continue teaching the Bible lesson from Sunday School while parents are in Worship Service.
Children ages 4 and above come to "big church" and are able to worship with their parents and the rest of the church.
"Power" for kids
"PoWeR" is the name of our children's choir and drama group. PoWeR stands for Praise, Worship, and Rejoice; and the focus is on worshipping God through music and presenting the Gospel.
POWER will begin again on 8/20/23. Here is a link to their current schedule:
CAMP BIG ENOUGH
Each August our four year-olds begin attending the worship service with their parents. As a way to prepare parents and their children for this transition, we have a "Camp Big Enough" class that gives parents some helpful tips about parenting in the pew and introduces children to what happens in a worship service. Kids love getting their "Big Church Bags" full of quiet activities and snacks that they can use during the service.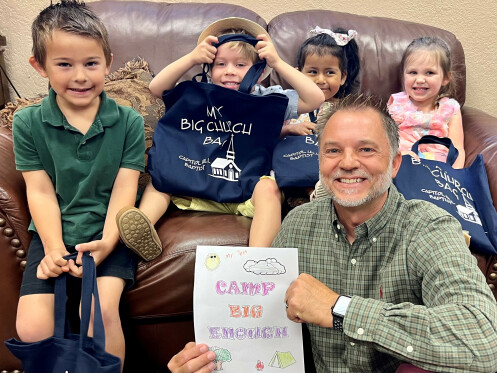 Wednesdays at CHBC
AWANA (Ages 3 - 6th grade) 5:55 - 7:30 pm - during the school year
AWANA features Scripture memory, missions, Bible stories, and games. It is a great place for children to connect. They are learning to connect to God, His Word, and to others. We also have fun theme nights, a family Christmas party and more!
Click here for the AWANA information sheet and calendar
Registration begins at 5:45 pm in the Main Foyer. Opening ceremony is in the Worship Center and begins at 5:55 pm for K-6th Grade. Children in Pre-k and under meet in the Preschool Area.
Summers at Chbc
During the Summer, children have opportunities to participate in Vacation Bible School, Camp for 3rd-6th Grade, family mission opportunities, and Summer Wednesday Night Activities (6 pm-7pm). Check the Event page for dates and more information.

Vacation bible school: 6/10/24-6/14/24
Kids will be challenged as they discover that God's truth never changes, everyone needs Jesus, and learn to speak the truth in love. Adventure awaits each day as kids explore tide pools, spot orcas, fly kites, and watch the mighty waves crash up against the immovable Breaker Rock!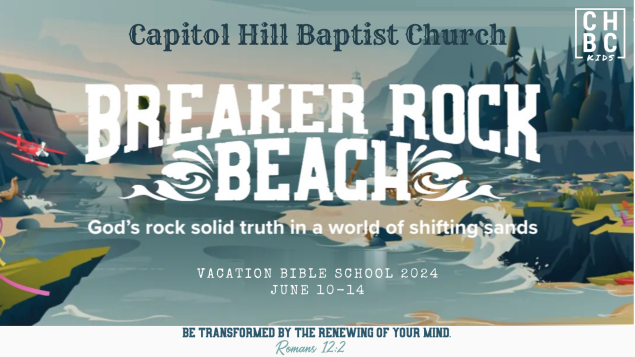 Safety
Your child's safety is a priority to us. Everyone who works with minors has been a member of CHBC at least six months, has completed a volunteer application, a background check, and Ministry Safe Training.